What I can do for you
Full service information »
I have over 16 years' experience working on the maintenance, restoration and repair of woodwind musical instruments in Essex and East Anglia. In that time, I have worked with a vast array of instruments in varying condition and from different origins, and have consistently brought them to a very high playing standard.
Whether you simply want your instrument checked over, or it's due in for a service, I have the experience necessary to deliver a very high quality and personalised service. I can even strip your woodwind instrument down, clean the body and all the keywork, fix or replace the parts and rebuild it to a nearly-new condition; the perfect way to bring out the best in your instrument.
To find out a little bit more about me, or the services I offer, please follow the links below.
Instruments for sale
Visit the store »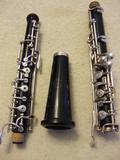 Vincent Bach
Category: Oboes
RRP: £N/A
Price: £70 Buy now
No image available.
Trevor James 10x
Category: Flutes
RRP: £N/A
Price: £150 Buy now
No image available.
yamaha ycl34ii
Category: Clarinets
RRP: £N/A
Price: £TBC Buy now