If you are interested in purchasing any of the instruments listed, please contact me via phone or email.
All instruments come fully equipped and on 14-day approval.
A free checkover and adjustment after the first 6 months is included.
All parts (e.g. pads, springs and corks/felts) are guaranteed for the first year.
Clarinets
Yamaha YCL250
Recent models and both in excellent condition. Silverplated keywork and adjustable thumbrests.
No image available.
RRP: £415
£200
Regent/ Buffet etc
selection of old instruments to clear
No image available.
£POA
Flutes
Yamaha/Edgware
selection of old flutes to clear
No image available.
£POA
Oboes
Vincent Bach
Conservatiore system, plastic bodied with covered tone holes. No low Bb fitted.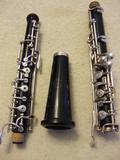 RRP: £N/A
£70
Images are indicative, and may not depict the instrument advertised.